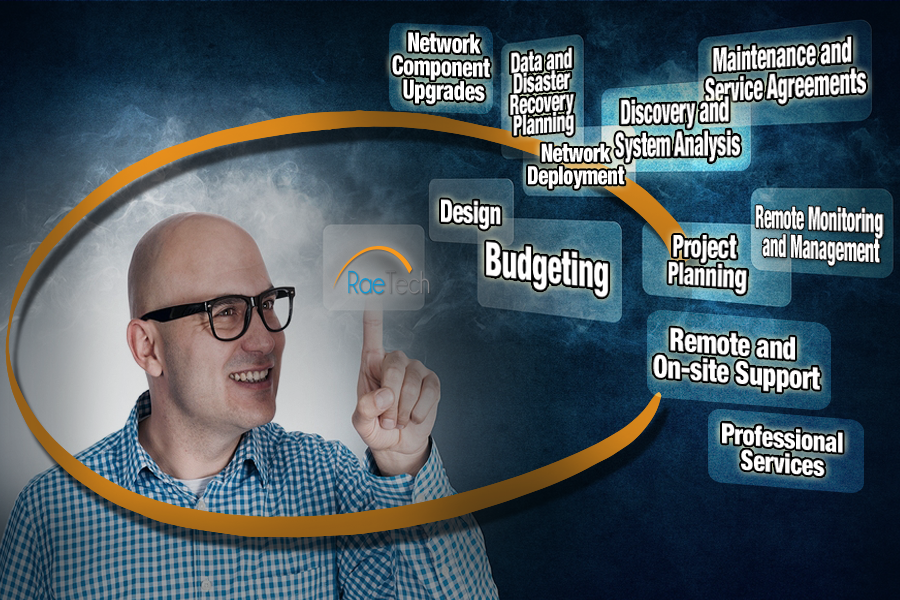 Founded in 2003 RaeTech has been providing businesses in Southern California first-class network design, installation, support and managed services. Our primary focus is your business network and providing the professional IT services to make it as effective as possible. Our professional IT services allow your company to focus on your business and not the technology that keeps it running smoothly. We have certified network engineers with the experience and skill sets to handle your IT problems without having to hire additional staff. You tell us your needs, plans and business goals and we'll design a support plan for ongoing maintenance or special projects for your stated business objectives.
Utilize one of our core services or a combination of services such as:
Discovery and system analysis
Design
Project planning
Budgeting
Network deployment
Maintenance and service agreements
Remote and on-site support
Remote monitoring and management
Network component upgrades
Professional services
Data loss prevention and Business continuity planning
Let RaeTech's team of highly skilled engineers maximize your network functions and keep up with the ever-changing technology while you have the freedom to concentrate on your business.
---
IT Solutions
Many businesses have the frustrating problem of how to hire and retain IT staff. The questions of evaluating prospective talent, possible career paths for IT staff, training them in new technologies, and motivating employees can often lead to unsuccessful network management and rotating staff that leaves your network at risk. RaeTech can give you the IT solutions that manage your computer resources, freeing your company to focus on its core business, not on its tools.
Whether your business is a law or insurance firm, financial institution, healthcare provider, manufacturing or service company, RaeTech has the IT solutions that can solve any of your IT dilemmas. RaeTech can work with your existing system, develop a new one, or create a hybrid of both. We can provide you with turnkey hardware/software/service IT solutions. RaeTech's goal is to recommend, deploy and support the most economical IT solutions possible to help you reduce costs and provide better customer service.
Contact RaeTech today 800.985.4065.